Stunning Bridges in Singapore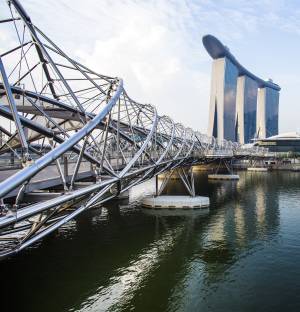 Bridges are everywhere in Singapore but these practical structures remain sorely overlooked by many. These humble structures are adored by artists such as Monet and Turner, and immortalised by poets in their lyrics. While their symbolic meaning is great, the artistry that goes into crafting these elegant structures are not to be overlooked. If you're searching for some of the most iconic bridges in Singapore for a photoshoot, or wondering about the view you'd get from these bridges, this post is for you.
The Helix
Looking like something straight out of a science fiction film, the Helix Bridge at Marina Bay is a marvel that make many passers-by stop and stare unabashedly. Sure, you may wonder if you've never seen it before, such a bridge is probably all lighted up, made of some new-fangled expensive material and may even offer a good view, but when all is said and done, it's just a bridge with nothing intrinsically amazing about it. Unfortunately, you're might be only about 75% right about that. Winning the 'World's Best Transport Building' award at the World Architecture Festival Awards in 2010, the bridge pleases both architecture and engineering enthusiasts, and draws many tourists every day.
Science geeks would love the night illuminations of the bridge which highlight the double helix structure of the bridge, while red and green lights twist out the letters C(ytosine), G(uanine), T(hymine) and A(denine), each representing a different DNA base. Take a long walk along this futuristic bridge at night, surrounded by twinkling lights overhead, and enjoy magnificent views of Singapore's skyline from viewing platforms along the bridge. We think it's a pretty safe bet that you'd find this bridge to be one of the most beautiful bridges you've ever been on.
Alkaff Bridge
One of the more interesting bridges in Singapore is the Alkaff Bridge, which was painted by a Southeast Asian artist, Pacita Abad. The Filipino artist, whose works are exhibited at international galleries, had worked on the bridge just months before her death on December 7, 2004. If you're wondering why the bridge wasn't named after the artist, the bridge took its name from the former Alkaff Quay which was close by. The quay in turn, had been named after the Alkaffs, a prominent and prosperous Arab family in Singapore at that time.
Today, this iconic multi-coloured bridge shaped like a boat can be easily spotted at Robertson Quay. The production of the 'Artbridge' took nine months. First, the bridge was painted in six different base colours: Yellow, pink, red, green, blue and orange. Then, 2,350 cheery circle stencil designs were painstakingly placed by hand onto the bridge in accordance with the artist's plan. Those who wish to see and touch art however, should take a closer look at the bridge's railings whose designs had been painted on by the artist herself.
Henderson Waves
One of the most interesting pedestrian bridges in Singapore is Henderson Waves which connects Telok Blangah Hill Park and Mount Faber Park. If you're tired after your hike through the Southern Ridges, fret not because this is one sky bridge with plenty of places for you to sit and admire the view. This aptly-named bridge takes an undulating form reminiscent of the sea with its mystery, depths and rollicking waves. Each curve of the bridge Little alcoves are created by the curved ribs of the bridge which are made from yellow Balau wood, affording tired pedestrians shelter from sun or rain, as well as privacy in their own little nook overlooking the trees.
One of the most tranquil places in Singapore to admire scenery, Henderson Waves affords good views of the city, ships in the harbour, and wide expanses of greenery, making you feel as though you've been transported to a different country. As it could get rather hot in the daytime, time your visit to coincide with the sunset to avoid the crowd and heat. The bridge is illuminated between 7pm and 2am daily, and is a great place to hang out with friends, away from the hustle and bustle of the city.
02 Aug 2017
Rayne