Ordering Food at the Kopitiam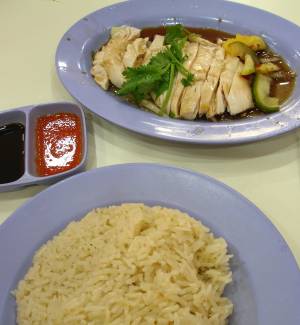 Unless one has lived in Singapore for some time, ordering food at a local coffee shop, or kopitiam, could be a slightly stressful experience. The accents of the stallholders may seem indecipherable, and the food unfamiliar. Even a simple coffee seems to come furnished with its own set of secret codes. A quick peek at the tray of the guy in front seems to reveal items that can only be found in a secret menu.
But it doesn't always have to be so complicated. Most coffee shops have the same kinds of stalls, so once you've mastered the lingo and familiarised yourself with the local foods, you won't feel uncertain or intimidated when walking into one.
Each coffee shop may host about eight to ten stalls. The drinks stall takes pride of place, and is usually found adjacent to the dessert stall. Of the remaining stalls, there would be a store each for Indian food, Malay food, and Western food, as well as several Chinese food stalls. The most common Chinese stalls you'd find in a coffee shop would sell fishball noodles, chicken rice, and economy rice.
Drinks
At the kopitiam, the drinks stall does not only sell beverages. Larger drinks stalls sell a variety of snacks—everything from strawberry biscuits to minty sweets to slices of homemade butter cake and fried doughnuts. The smaller stalls may not have such a wide selection, but they would stock the usual Chinese bao. These steamed buns, available in small and large sizes, come with a variety of fillings. The four main types of filling for the smaller buns are red bean paste, lotus seed paste, barbequed pork and steamed pork. Large buns (measuring 7-8cm across) are usually filled with egg, pork, and vegetables.
A closer look at the foods in a silver steamer would reveal local breakfast delicacies such as chee cheong fun (rice noodles rolls served in soya sauce), lo mai gai (glutinous rice and chicken) and siu mai (pork dumplings). Even if all these aren't available, you won't be left hungry as almost all drinks stalls would provide the bare minimum of kaya and butter toast, and soft boiled eggs.
Western Food
Just as how you might be able to find Vietnamese rice rolls, Japanese sushi and Chinese spring rolls sold together in an unapologetic hotchpotch at an Asian restaurant in Europe, so might you find Western food stalls in Singapore which serve French fries with everything from grilled fish to chicken chop. What is that last one again, I hear you demand. In Singapore, a chicken chop refers to a cut of boneless chicken thigh meat. It made a certain linguistic logic back then to avoid neglecting the chickens once we had chopped the sheep and pigs, and so today, all Western food stalls in coffee shops around the island serve this dish with pride. Chicken chop usually comes grilled and slathered in a black pepper sauce or a creamy mushroom sauce.
Chicken Rice
At this stall, the bulk of the orders are for roast chicken rice or steamed chicken rice, more commonly referred to as 'white chicken rice' in Chinese. The latter refers to steamed chicken that has a unique gelatinous, pebbly skin. Hainanese chicken rice should have a delicious fragrance as the rice is cooked with chicken stock, ginger and garlic. When placing your order, feel free to add a side of pickled vegetables, braised egg, fried egg, chicken gizzards or liver. It may sound bizarre to add chicken guts to your meal, but believe us, they're delicious and worth a try. Many stalls also offer chicken cutlet rice, lemon chicken rice (chicken cutlet with a lemony glaze), char-siu rice and roast pork rice.
Fishball noodles
Sometimes you may wonder why the person in front of you seems to have ordered the same dish of fishball noodles, and yet walked away with something that looks totally different from what you're having. The reason is because most stallholders would simply provide you with a standard bowl of fishball noodles, depending on what is advertised on their signboard. If it is a bowl of dry noodles, then dry it'd be. If you simply asked for 'fishball mee', the noodles provided would be the standard thick, yellow wheat noodles.
Next time, try customising your preferred bowl of noodles by letting the cook know beforehand:
Whether you prefer a noodle soup dish, or a 'dry noodle' dish
If dry: Whether you prefer a tomato-based sauce or a chili-based sauce
Whether you only want fishballs with your mee (otherwise, most stalls throw in slices of fishcakes, beansprouts or mushrooms, in lieu of an additional fishball or two)
Your preference for a particular type of noodle. You can usually choose between the thick yellow noodles, mee pok (flat and yellow wheat noodles), kway teow (flat rice noodles), or mee tai mak (short and fat rice noodles)
Economy rice stall
Also known as the mixed rice stall, this is one stall that would almost definitely be found in every coffeeshop. With 10 to 20 different dishes laid out in gleaming silver platters to form a veritable buffet, the economy rice stall never fails to lure in the customers with this feast for the senses. Each customer orders a plate of rice, or a bowl of porridge, and selects three to four sides to accompany it. But why is it called economy rice? For the simple reason that you can tailor your meal cost down to the last cent while selecting the dishes you like. Selecting two side dishes would cost less than three, selecting vegetarian options would cost less than meat, selecting stir-fried meat would cost less than a chicken drumstick or a slab of fish—it's fully expected for your menu choices to be governed by the different cost options, so don't be shy!
18 May 2017
Rayne