Neighbourhood Spotlight: Katong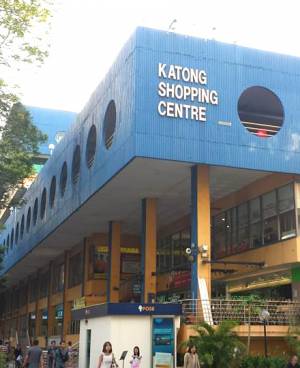 If you have several hours to spend exploring Singapore, one lovely neighbourhood which should automatically go to the top of your list is Katong.
In the late 19th century, Katong (pronounced as kah-toe-ng) was famous for being a prestigious neighbourhood—one that primarily drew the Eurasian and Peranakan communities with its lovely sea front location and fertile land. When the Great Depression of the 1930s lifted, people became increasingly affluent, and this increase in wealth was reflected accordingly in a change in their accommodations. Those seeking a new and exclusive neighbourhood were tempted by the Katong seaside location with its lovely breezes and fertile land. Coconut plantations grew well on the sandy land, but these eventually disappeared through extensive redevelopment projects in the 20th century that saw urbanisation ripple through the neighbourhood.
Following its rapid growth and development in the early 20th century, the Katong of today stretches from Mountbatten Road to Siglap, and includes the East Coast and Tanjong Katong neighbourhoods. The original Katong had once been a small geographical area that bordered the sea, but extensive reclamation works had pushed the neighbourhood further inland. Its close ties with the sea can be seen even in its very name, which comes from the name of a now-extinct sea turtle, and which is said to mean 'the rippling effect of a sea mirage when looking at a shoreline'. This marine bent is reflected even in one of our national songs: 'Di Tanjong Katong' (At the Cape of Turtles), a popular Malay song which all Singaporeans would be able to sing or at least hum vaguely, begins by declaring, 'At the Cape of Turtles, the water is blue'.
In spite of those laudatory sentiments, the waters at East Coast today are probably far cleaner than they used to be. And there's even a plethora of restaurants selling delicious seafood! You don't have to pay an arm and a leg for a large platter of hairy crabs though, as the East Coast Lagoon Food Village is choc-a-bloc with hawker stalls selling all manner of seafood from stingray barbecued with sambal belachan to steamed pomfret and mussels cooked in a tangy tomato chili. East Coast Park, made entirely from reclaimed land, is Singapore's largest beach park with 185 hectares to its name. There, people engage in a variety of sports such as windsurfing, rollerblading and cycling, and while away many a relaxing hour chatting with friends, roasting seafood at one of the many barbeque pits available. Reluctant to leave, some may even choose to spend the night camping!
If you're looking for is to relive the past, Katong, and its neighbour Joo Chiat, have something you might want to check out. Though many joke about the frenetic pace at which buildings are constructed, torn down and built over in Singapore, not all relics of the past have been removed. Many beautiful and unusual shophouses in Singapore have been lovingly restored to their glory of yesteryears. Built by the Peranakans, these shophouses are some of the most colourful buildings in Singapore today. Some of these shophouses offer a closer look into Peranakan culture with faceted glass beaded slippers, traditional kuehs, elegant Nonya kebaya outfits, among other traditional wares up for sale.
The true historic heart of Katong, however, is believed by many of the older generation to be at today's Roxy Square. The multi-million dollar shopping complex was built in 1984, but its name goes even further back in history when the famous Roxy cinema was built. The cinema, built before World War Two, was a favourite haunt of Katong residents, both young and old alike. Today, Roxy Square and the succinctly-named Hotel Grand Mercure Singapore Roxy, are standing where the cinema used to be. Those who do still wish to catch a film, however, will still be able to do so at the 112 Katong shopping centre which is a mere six-minute walk away. Whether you're searching for some of the best schools in Singapore, famous food stalls or sports and entertainment facilities, Katong is sure to have something for everyone.
07 Mar 2017
Rayne