Five Iconic Singapore Dishes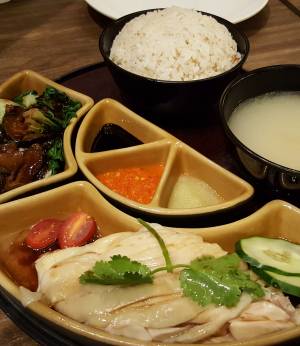 How can we possibly limit ourselves to just five dishes, we hear you cry, when the entire island is covered with a plenitude of famous stalls and restaurants to patronise? If you're transiting in Singapore or staying for only a couple of days, however, make sure that you start with these five iconic Singapore dishes that have been part and parcel of the country's culinary history for years. Though these may be the tip of the iceberg when it comes to tasty local foods, these dishes provide more than just a treat for your taste buds, but also a little slice of history.
Chicken rice
If asked to pick one dish that should be crowned as Singapore's national dish, Hainanese chicken rice would win hands down. Just as its name suggests, the dish originated from the Hainan immigrants from China. Over time, however, the locals have tweaked the recipe and created a unique adaptation of their own. At a typical chicken rice stall, one would be able to choose between 'white' or 'roasted' chicken. White chicken refers to chicken that has been dipped into ice water immediately after cooking, which creates a pebbled jelly-like texture on the skin of the meat. Aside from the meat, customers could also choose to add on additional sides, such as vegetables cooked in oyster sauce, beancurd, braised eggs or assorted chicken parts such as the gizzard or liver. However, what truly makes this dish stand out is not the chicken—but the rice. The Hainanese chicken rice in Singapore is cooked with chicken broth, salt and pandan, which gives the rice a delicious fragrance with an unmistakeable taste.
Laksa
Ask anyone in Southeast Asia where to get the best laksa, and there's a high chance that you'd be hit with a swift nomination and a rapid-fire explanation of why that dish is quite simply the most authentic and delicious version of laksa there is. Laksa is a spicy noodle soup dish where either rice noodles or vermicelli is cooked in a spicy rich soup made with coconut milk, or tangy sour soup made with tamarind. In Singapore, the dish is said to have been invented by the Peranakans, descendants of Chinese immigrants who had arrived in Malaysia and Singapore between 1400 and 1600. The assimilation of the Chinese into the predominantly Malay local population through marriage, was the first step in the creation of a rich Peranakan, or Nonya, culture in the Straits Settlements of old. The most famous laksa variant in Singapore, is thus fittingly termed 'Katong Laksa' as the dish was said to have been created by the Peranakans, many of whom lived in the Katong area of Singapore.
Katong Laksa is cooked with coconut milk, and includes cockles, a hard-boiled egg, and what makes it truly special—cut noodles that make the dish easy to eat with a spoon instead of chopsticks. Though no one is quite sure of how this dish originated, but between Assam Laksa, Katong Laksa, Laksa Lemak and countless other variants, it's safe to say that this dish is popular throughout Southeast Asia!
Fish head curry
Another dish with mixed origins, making it perfectly representative of Singapore's diverse population. is fish head curry. Chinese and Indian influences have helped to create the perfect dish where a large and succulent fish head is simmered in myriad curry spices such as cumin, tamarind, mustard seed and fenugreek seeds. Coconut milk is also added to the dish, along with heaps of vegetables such as tomatoes and okra. The entire curry is to be enjoyed with rice, and mopped up with thick crusts of bread at the end of the meal.
Black pepper or chili crabs
Ranked by CNN as one of the most delicious foods in the world, chili crabs in Singapore are not spicy and are instead cooked in a piquant tomato and chili sauce that lends oomph to each juicy mouthful of crab meat. Thick gravy is often ladled generously over the crabs, and the sauce is so tasty that many restaurants also offer little fried buns (Mantou) for diners to mop up whatever's left of it when you're done with the crabs. Black pepper crabs are just as big a hit with the locals. Many other crab dishes such as salted egg crabs and XO Crab Beehoon each have their own fans as well.
Bak Kut Teh
On cold rainy nights, nothing hits the spot better than a steaming bowl of delicious pork rib soup with meat so tender that it falls right off the bones, ready to be dipped into a mix of soy sauce and chili padi. Despite its name which means 'meat bone tea' in Chinese, Bak Kut Teh is a peppery soup that actually contains no tea at all. The dish is a Teochew favourite, and the Singapore version tends to reflect this cooking style by going light on the herbs, and heavy on the pepper and garlic. The peppery soup is made with meaty pork ribs boiled in a complex amalgamation of spices such as star anise, white peppercorn, dang gui and cloves, and is typically served together with rice, fried dough sticks and hot Oolong tea.
22 Feb 2017
Rayne