Top Five Budget-Friendly Shopping Districts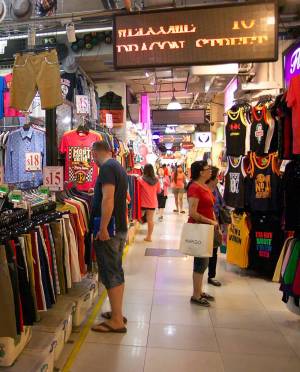 Though prices at shopping centres across Singapore may seem standard if you're only keen on purchasing from mainstream brands such as UNIQLO or Zara, there remain many affordable and trendy clothing stores tucked away from sight that will make your jaws drop at the value you get for your buck.
One such hidden gem is J-Avenue, a cluster of clothing stores inside J Cube. The latter is a shopping centre that's just one of the three megamalls clustered at Jurong East. Though the commuters thronging the MRT platforms may seem intimidating at first, there's no arguing that the station and its surrounding vicinity is much less crowded than one would have expected for a major interchange. Shopping in this area is also convenient as all three shopping centres are located within a stone's skip away from each other. With the crowd spread out, shopping is a far more relaxed experience than at the busier places where one is easily mortified by taking a second too long at the cashier.
Opened on 6 September 2014, J-Avenue was developed with the intention of capturing the attention of technology-savvy youngsters with a penchant for digital media. Aside from its IMAX cinema and Olympic-sized ice-skating rink, the shopping centre drew shoppers with quirky J-Avenue attractions such as 3D paintings on floors and a 'social wall' which displayed selfies taken by shoppers. Over time, the place has evolved into one of the best places in Singapore to find affordable street fashion that would appeal most to teenagers. If you're wondering just how cheap is cheap, let's just say that it's not surprising to find tops or bottoms priced at $10 or below here.
Working adults who think that low-cost quality office wear is something of an oxymoron ought to get their shopping done at IMM Mall where a number of outlet stores have set up shop. Branded as Singapore's largest outlet mall, IMM (which stands for International Merchandising Mart) hosts approximately 70 well-known brands that offer lower prices at this particular branch. While the discounts given may not be shocking, every little bit helps, especially when there is a huge selection of shops to visit! However, if you hate the idea of travelling so far out to the West, why not head to Changi City Point, a shopping centre that's parked conveniently next to Expo MRT? The selection of outlet stores is decent, with a greater focus on sportswear and casualwear. Discounts are offered in many of the shops you'd find here, making sure you spend a lot less while retaining the same quality you'd find in larger shops.
Our favourite place to hit when looking for a good bargain would be Bugis Village. A long-time favourite of not just the savvy local but also the keen-eyed tourist, Bugis Village, also known as Bugis Street, is an iconic shopping haven listed on Tripadvisor as the No.7 place to shop in Singapore. Bugis Village is a five-minute walk away from Bugis MRT station, which is also connected to the Bugis Junction shopping centre. Bugis is a trendy neighbourhood with a strong youth culture, and the shopping centre reflects the tastes of its patrons perfectly by cultivating an eclectic mix of shops selling everything from trendy men's wear to authentic Harajuku merchandise. When you're tired from shopping at the Village, it's definitely worth your while to explore the numerous vibrant food stalls that create a lively market-like atmosphere in the basement of the shopping centre.
Separating Bugis Village from the shopping centre is a busy road, one that can get a little warm during the day as one waits for the lights to change. However, the Village is blessedly sheltered and cool with air-conditioning filtering through the three-level shopping arena. Clothes are generally available in small to medium sizes, and their styles reflect a combination of mainland Chinese, Taiwanese and Korean street fashion and Singaporean sensibility. Everyone from teenagers to young adults looking for work-appropriate attire will be able to find something to their liking at the Village. Tip: Many of the shops get their merchandise from very similar sources overseas, so if you see something you like, it's worth circling round to see if you can get the same item at a lower price elsewhere. It can get a little crowded and overwhelming at the Village however, so if you don't mind paying slightly more (but less than what you'd pay at most shopping centres anyway), check out Far East Plaza which stocks much of the same type of clothing. The place is cooler and more spacious, and is conveniently located in Orchard, so there's always time for you to pop over to Mandarin Gallery for afternoon tea once you've secured your prize.
17 Feb 2017
Rayne