7 Workshops to Attend in Singapore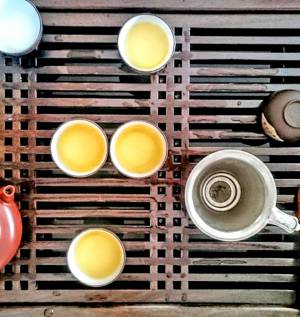 It is a common misconception that shopping and eating's all there is to Singapore. Truth is, there are many facets of Singapore's mishmash culture and local trends that remain to be explored. A particular area that has been blooming in the undergrowth is cosy workshops run by locals to impart knowledge and cultivate appreciation of various arts. Here, we've rounded up some of the best workshops for you to engage your senses, pick up a new skill or simply get in touch with the local community.
1. Leather Craft Workshop
Leather craft has increasingly won the affection and occupied the weekends of urbanites. If you're a fan of custom-made products, the raw opulence of leather or handcrafting, the leather craft workshop is a must go for you. Here, you'll pick up a thing of two about leather types, properties, crafting and debossing techniques. At the end of the session you'll bring home a couple of personalised, self-crafted accessories made from a single leather piece.
Website: http://thegeneralco.sg/collections/workshops
2. Modern Calligraphy Workshop
Hand-written script typography is all the rage. Why not try your hand at it and cultivate your penmanship in a modern calligraphy workshop? Learn the fundamentals of traditional dip nib pen techniques, master the formation of elegant upper and lower case letterings, develop your personal style of calligraphy and create thank-you cards and spirited notes with a touch of you.
Website: http://www.theletterjsupply.com/pages/workshops
3. Indian Dance and Music Workshops
Steep yourself in Singapore's rich Indian culture and shake off all your pent up frustration in a traditional Indian dance class. At the Temple of Fine Arts, you'll be given the choice to pick up a classical dance form: Bharatanatyam, Odissi or Kathak. Alternatively, you can sign up for a rhythmic dance course – Nattuvangam. You also have the option to pick up traditional instruments like the Tabla and Sitar. Experience the beauty and sensuality of Indian culture through an immersive dance experience that is unlike any other dance class you may have been to.
Website: http://www.tfasg.org/subjects/
4. Tea Appreciation Workshop
Tea lovers, this one's for you. How does indulging yourself in traditional Chinese tea culture and having your fill of tea knowledge sound? In this tea appreciation workshop, you'll learn about the benefits of different teas, how to differentiate them, styles of appreciation and the process of tea-creation. By the end of the session, you'll not be 'tea literate' but be equipped with a mode of self-cultivation – the understated virtue of traditional Chinese tea culture.
Website: http://teachapter.com/tea-workshop/individual/
5. Wine Appreciation Workshop
A fine starting point for beginners, this wine appreciation workshop will furnish you with knowledge on wine production, grape varieties, 'wine language' and train your nose to pick out different aromas. This session will put your tastebuds into action with three red and three white wines, and leave you feeling a tad classier the next time you pour yourself a glass. Apart from wines, you can also choose workshops that explore other alcohol varieties, such as whisky, sake and sochu. You'll learn about their history, culture, production, essential differences as well as tasting techniques.
Website: http://www.winelanguage.sg/workshops--corporate.html
6. Perfume Workshop
Intrigued by smells and fragrances? You're in for a treat at this perfume workshop for beginners. No need for prior experience or knowledge on perfumes – a friendly perfume connoisseur will teach you all you need to know about the different notes in perfumery, the fragrance wheel and the art of blending scents. At the end of the class, you'll be bringing home a bottle of your personal concoction and make your presence smelt, wherever you go.
Beginners Perfume Workshop, Jetaime Perfumery, 125 Meyer Road, Singapore 437936
Website: https://www.jetaime-singapore.com/
7. DJ Workshop
Forget guitars, drums and the usual. Embark on a DJ workshop and explore the less conventional side of music and merry making. Grasp the basics of DJing, turntablism and music production from seasoned instructors and discover the beauty of electronic music.
Website: http://www.e-tracx.com/dj-school-singapore/in-house/workshops/
19 Oct 2016
Maxine Loh