Five Lunar New Year Traditions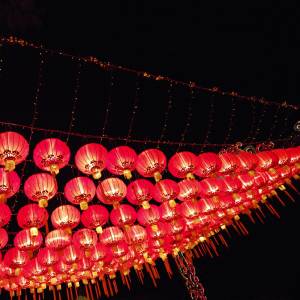 In Singapore, where the population remains predominantly Chinese, the Lunar New Year, also known as the Spring Festival in China, is easily one of the largest and most vibrant festivals celebrated across the island. However, for other ethnic communities, the holiday period may actually cause a little inconvenience as numerous stores are closed and eateries are fully packed. On the eve of the Lunar New Year, many companies, shops and restaurants would operate for only half a day at most. The first two days of the holiday as well, are not likely to see much commercial activity as staff spend time celebrating with friends and family.
Today, the Lunar New Year celebrations are not religious in nature, and are not necessarily restricted by ethnicity as plenty of Chinese take this opportunity to invite friends and family from all communities to visit their homes. Many companies celebrate the festival as well, with many companies distributing free packs of red packets to employees, organising company dinners, and doing lo hei together for prosperity. By and large, people would prepare for and celebrate the festival in a few ways:
Do spring cleaning
In the weeks leading up to the start of the New Year, many families in Singapore will begin to do spring cleaning. This practice of getting rid of everything that is old, redundant and unwanted is one that takes place in Chinese communities throughout the world. Aside from helping you to declutter, it's a helpful reminder for people to clean out their house thoroughly at least once a year, and leaves them extra room to fit any new purchases. Cleaning the house well is also important as it is considered inauspicious to sweep or clean the house in the first few days of the New Year, as it is thought to 'sweep away' good fortune at the same time.
New Year's shopping
Shopping takes on greater significance during the Lunar New Year as families welcome in all that is beautifully new as this is considered to be especially auspicious. Fresh flowers and plants are bought to brighten up the house, walls may get a fresh lick of paint, and bright wall decals bearing the Chinese word for 'fortune' or decorated with the year's zodiac animal are also commonly pasted on walls and doors. New clothing is also a must; a common practice during the Lunar New Year is for people to pay their relatives a visit, decked out in new clothing.
Have a reunion dinner
On the eve of the Lunar New Year, families gather for a reunion dinner. If you've ever wondered at the sudden easing up of traffic in Singapore during this holiday season, it could be because much of the local Chinese population will be remaining at home to spend quality time with their families while a fair proportion of the foreign Chinese employees in Singapore return to their hometowns for this meal. During a reunion dinner—typically steamboat—the family spends hours together eating, chatting and laughing. Though simple enough, spending time together could be considered a luxury, especially for those working far from home. The Lunar New Year thus provides an excellent opportunity for people to renew and strengthen familial ties.
Do a prosperity toss
In Singapore, many believe that eating yusheng is one way to usher in good fortune for the coming year. This dish, comprising mainly of carrots, radish, raw fish and crackers, is extremely popular and can only be eaten during this holiday period. And don't think it's just about the food. Close friends, family and colleagues frequently partake in this dish together during the New Year, and while reciting auspicious phrases and wishes for good fortune, prosperity and youth, have a blast mixing and tossing ingredients together vigorously. If you've never seen this in action before, just imagine a classier version of toddlers playing with food, only that these grown-up kids are aiming their food at the ceiling and hoping to still be able to eat the food afterward.
Visit a Chinese friend or relative
Chinese New Year visiting is one of the key highlights of the celebration. For many families in Singapore, this festival could be the only time where extended relatives get to meet one another and catch up on all that has happened over the course of the year. Many families also simply enjoy quality time together by snacking, playing mah-jong and card games, and watching bad television. Visiting is also greatly anticipated by children and teenagers who usually receive red packets from married relatives.
02 Feb 2018
Rayne