Getting the Best Deal on your Taxi Ride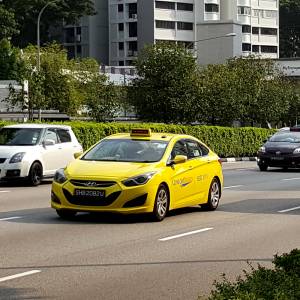 The cost of taking a taxi in Singapore is still widely considered to be reasonable and lower than that in other first-world countries. In spite of the growing popularity of GrabTaxi or Uber, many who support local taxi companies, continue to utilise their services on an extremely regular basis. Due to the high cost of a car as well as the compulsory purchase of a Certificate of Entitlement (COE) that allows holders to register, own and use a car, it may in fact work out to be much cheaper to travel by taxi everyday instead.
Basic Rates
To calculate the metered fare for a basic taxi, note that the flag-down fare which includes the first kilometre ranges from $3.20 to $3.90 (although this may rise to $5.00 for premium taxis), and that you will be charged 22 cents per 400 metres for the next 10 kilometres, and the same fare for every block of 350 metres thereafter. The same fare of 22 cents also applies for every block of 45 seconds of waiting.
Booking Fees
The booking fees for a normal taxi may differ from company to company, but tend to be the same as each company's respective flag-down charge. This may change, subject to the time of booking.
ComfortDelGro and SMRT
During peak period from Monday to Friday (between 0600 and 0929 hours), and Monday to Sunday (between 1800 and 2359 hours), the booking charge for a basic Comfort, CityCab or SMRT taxi is $3.30. At all other times, the booking fee is $2.30. For an advance booking of a ride scheduled at least half an hour after, the booking fee is $8.00.
Prime Taxi
A peak period booking of a standard taxi would set you back by $3.50, and a non-peak period booking by $2.50. Their advance booking charge is one of the cheapest at $6.00.
TransCab
Booking charges for these taxis are the same as ComfortDelGro at $3.30 and $2.30 for peak and non-peak periods respectively. Their advanced booking charge costs $6.50.
Premier Taxi
The peak period booking fare for these taxis are one of the most expensive at $4.50, though the non-peak period booking charge is roughly the same as the other companies' at $2.50. The advanced booking charge is $8.00.
Surcharges
One source of confusion and even contention for foreigners in Singapore who may often be plagued by doubt and suspicion of being overcharged by the cabbie, is the additional surcharges and booking fees that passengers have to fork out, in addition to the metered fare.
Electronic Road Pricing (ERP)
When the ERP is in operation, a small sum of money is automatically deducted from the NET CashCard or a CEPAS-compliant stored value card (i.e. an Ez-Link card) from the In-vehicle Unit (IU) of any vehicle that passes an ERP gantry. As the ERP is said to be put in place to deter congestion, ERP charges are time-sensitive and increase during peak hours. The ERP gantries at Orchard and the Central Business District for instance, are in operation between 0800 and 2000 hours. As of 7 November 2016, till 5 February 2017, ERP charges for cars, taxis and light good vehicles range from $0.50 to $3.00.
Peak period surcharge
Between 0600 and 0930 hours from Monday to Friday, as well as 1800 to 0000 hours from Monday to Sunday, there is a peak hour surcharge of 25% of the metered fare.
Midnight surcharge
From midnight till 0600 hours, all cab fares will be include a surcharge of 50% of the metered fare.
Location surcharge
If you're starting your trip from certain popular locations, there will be an additional location surcharge between $3.00 and $5.00. Locations include but are not limited to the city area, Changi Airport. Marina Bay Sands, Resorts World Sentosa, Singapore Expo Centre, Marina Bay Cruise Centre, and Gardens by the Bay.
11 Jan 2018
Rayne